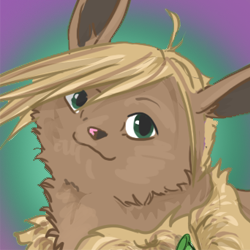 Okay, stalkers! Here is everything you ever need and don't need to know about yours truly, Riley! I swear to Arceus if you fap to this I will kill you in your sleep——Shinku tells me not to say this sort of thing. Okay, fine, but I meant every word of it! I hope you find this information…helpful, somehow. ~Riley
-

Name: Riley
Age: Human equivalent to 18.
Sex: only if you're good—er, female
Species: Eevee; the evolution Pokemon
Aura: Blue-Green

Personality: Sassy; alert to sounds
Moves: Sand-Attack, Helping Hand, Bite, Flail
-
What Makes Me Awesome:
With my wonderful ears, I can hear the slightest noise! So don't go trying to sneak up on us, you hear??
I lend a helping hand to Shinku or who ever else comes to join us in a battle! Mother says it's a good thing I use this, as my "normal" type moves aren't helpful, at all. Isn't that nice of her? :l
I have a liiittle bit more clever mind than others! Just a little! Haha!
I'm very loyal, and even if I tease and taunt everyone around me, I love them very much. Don't ever question me on that, I will bury you. Also don't dare say anything about this either… or you can swim with the Magikarp!
I'm more of a backup, despite being the "leader" of the team. Heh, now that I think of it, that's hilarious. Anyway, I blind the enemy and support the team with sand-attack and helping hand. If I do so happen to get injured, I'll throw in a flail. Bitches love flailing.

For those pesky ghost types, I will unleash my bite attack! Also, when Shinku's moves or whoever's moves fail, I can always smack the enemy myself when in a pinch.
I'm very open with Pokemon. I don't care what you do and don't know, hell I'll tell you everything I DON'T CARE! What're you gonna do, tell everyone? Pah, less work for me to do, then!
-
What makes me less awesome:
I couldn't think of any cons, until Shinku kindly told me all of my faults. Needless to say, he got sanded in the face and I roasted him so hard—
Apparently, I'm a little too open sometimes. And rough, at that… Whatever.
Like mom said, I'm "only" a normal type Pokemon. I don't really have that much going for me, other than…than… :(
My speed is average. My sassiness takes it down a level but my alertness to sounds takes it back up, I'm nothing special. At least my special defense is a little higher.
I badmouth Pokemon that I shouldn't.
Sometimes I start unnecessary challenges, like with Snowflake Gifts, I started a present challenge with Team Cafe Time.
I'm, what Shinku described, as a "blowhard." Right after I told him "that's what she said," he hissed and said it means I have a high opinion of myself. As if! 
Despite what I come off as— proud, uncaring of your opinion- I actually get put down really hard and dwell over insults for days. I hold grudges, too.
I'll probably never evolve. It's not that I have a deficiency or anything…it's just… so much pressure. Seven different choices, four of which I wouldn't so much as THINK of becoming.  As for the other three, Mother wants me to become a Flareon like she is. I really don't want to be like her. Leafeon look really cool, but I don't think that's me, you know?  And, between you and me, I'd become a Jolteon just because of Shinku. Buuut, I'd be much too sad about losing my tail. A tailless Riley, can you even imagine? I love mine way too much to sacrifice! Even for Shinku.

When I come up with more reasons why I suck, I'll be sure to tell you first. :l Jerks.
-
Family:
I don't want to tell you too much here, cuz this page is about ME! Haha! Anyway, my father, Sullivan, is an Arcanine. He met my mother Bonnie, a Flareon, when they were the human-equivalent age of 20. They really want me to become a Flareon so I can be a fire type like they are. My sister Kyleigh (ky-lee) got into their fire stone sash, consequently becoming a Flareon, too. She's 5. My brother, whom I fondly call "Gih-gih" is still an Eevee, although he's very close to evolving. He'll probably be an Umbreon, he's only up and about at night like some sort of bum, anyway. Dad is thinking about slipping a fire stone in his room, good luck with that, I say. He'll flip!
Unlike Shinku's loaded family, my family is only of average wealth, and they live in a small hut with 3 rooms. Yeah, I got kicked out by my sister who wanted my room, and here I am living with Shinku as a rescuer. I don't mind this at all, it was chaos back at home.

-
Trivial Information:
My sign is Aquarius. Pokemonized, go with Lapras, Milotic, Vaporeon- I don't care!
Favorite food- look don't go by the stereotypes; who in the WORLD likes bitter food? IT'S CALLED BITTER BECAUSE IT'S GROSS!! I like sweets and spicy. Cheri berries are wonderful!

Least favorite food- sour, ew. Also, corn because it's dumb.
more to come! Theres plenty of useless things you could know about me, just ask.
-
Missions Participated:
Mission 1- As part of my own sort of "initiation" into the group, I forced Shinku to do at least one mission. We chose to help out a fat unfortunate Cyndaquil find his rare candy. In this mission we worked with Team Smokin' Gold and the passerby Team Marquis.
Mission 5- A unanimous decision, to skip past the other missions. We can't rightly change anything that's already happened!
-
Events Participated:
Snowflake Gifts- Despite what some people think of me, yeah I do like giving gifts. But you're right if you think I love GETTING them more. Haha I love getting stuff! Give me more things! <3
-
Flashback-tasticular:
History of my people, it will come with time. e_e